Cross docking is a logistics strategy that keeps the supply chain moving.  While both load transfers and cross docking involve handling the cargo and delivering it to another destination, cross dock services involve unloading cargo from a truck or container onto another truck for delivery.  Because the product is not stored, delivery time is minimized and often takes less than 24 hours. Cross docking requires excellent communication between carriers and shippers for it to do its job―cut down on time in the supply chain.  The cross dock strategy is to be more efficient.
With our fleet of moving equipment, Gabrielson's can provide any cross docking services.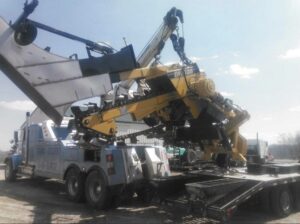 Load Shifts
Loads can shift during transport and can become a hazardous situation.  We follow strict safety standards to ensure that every load is adjusted and balanced to minimize damage and injury.  
Local Transfers
Gabrielson's has the equipment and the experience to perform load transfers in any situation.  Whether your truck has been in an accident and the load needs to be moved to an undamaged trailer or you just need a load transferred, we can handle it.  
We have all the best tools for the job.  Our fleet includes:
Flatbeds
Reefers (Refrigerated Trailers)
Dry Vans
Dovetail Trailers
Landoll Trailers
On/off Road Forklift
On/off Road 15-ton Crane
Mobile Grain Vacuum
Cargo Storage
Our clean, in-house storage facilities can store any load including refrigerated product. If you've been in an accident, we can store your cargo until your vehicle is fixed or a replacement truck arrives.  We work quickly to get your product into storage to help minimize any downtime.
With an excellent location in central Missouri, we're perfect for any warehousing needs you may have!
Refrigerated Storage
Our refrigerated storage units will keep your cargo at the right temperature to prevent spoilage.  You can rest assured that your product remains safe while you arrange for transfer to another vehicle or for your truck to be repaired.