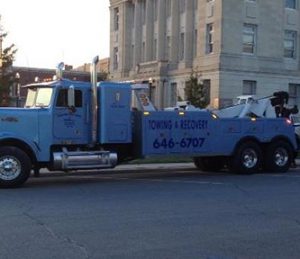 We have certified WreckMaster technicians so your vehicle will be towed safely and without damage. WreckMaster is the premier programs that gives technicians an extensive understanding of the towing vehicle and the proper usage procedures. Our experts can handle tow jobs for a motorcycle or a semi and every size vehicle in between.
We have 6 heavy recovery wreckers. Our 24-hour road service provides damage-free towing wherever you need to go, winch-outs, and accident aid. We can do tractor swap-outs, load transfers, damage-free wheel lift, low-boy towing, light and medium-duty roll-offs for dumpsters and containers.
Our 75-ton and 50-ton rotator wrecker allows us to provide crane services and the adjustable boom can safely lift the heaviest trucks in an accident situation.
Property Removal
Do you have abandoned property or junk in the way? Our tow vehicles are available to help with retrieval of abandoned property and can haul away any junk that may be cluttering up your property.
Jumpstarts
One of our mobile units can get to you quickly with a jump any time of the day or night.
Unlock
We can perform damage-free unlock services for any vehicle make and model.
Fuel
A Gabrielson Truck & Towing mobile unit can bring fuel if you run out.