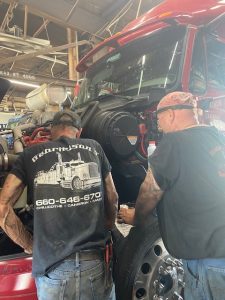 Providing the latest computer diagnostic and technical training allows us to work on almost any make and model.
Diagnostic laptops loaded with OEM Cummins, Caterpillar, Volvo, International, and Detroit can read and program your truck's fault codes and provide diagnostic support straight from the dealer.
Tech certified to repair your Air Conditioning with the latest in black light and sniffer technology to find leaks fast and get you a/c to peak performance. R-134 reclaiming machine is safe for the environment and can reclaim your R.134 so it can be reused, saving you money.
Radiator
Radiator repair on brass and aluminum radiators will save you money over replacement. We can even repair some radiators in the vehicle. Our test tanks can handle radiators up to 6 ft. tall and 6 ft wide. If it can't be repaired, we keep hundreds of radiators and charge air coolers and stock.
Tires
Our 500 truck and car tires in stock, with tire deliveries daily. New, Bandag recaps, super singles, and used tires all available 24/7. National account billing for Bridgestone and Bandag tires available.
Tools and Parts
We stock over a million dollars in new and used parts for quick turnaround time. Interstate batteries, starter, alternators, brakes, drums, water pumps, air springs, LED lighting, bumpers, mufflers, PTO, belts, and hoses for almost all makes and models in stock. With over five acres of used trucks provides a more cost effective way to keep your truck on the road.